Ron Fletcher
Ron Fletcher (May 29, 1921 - Dec 6, 2013) was a dancer, choreographer, Pilates Master teacher, and an author. He is one of the first generation teachers ("Pilates elders")  who worked directly with Joseph and Clara Pilates.
Ron Fletcher
Ron Fletcher (May 29, 1921 - Dec 6, 2013) was a dancer, choreographer, Pilates Master teacher, and an author. He is one of the first generation teachers ("Pilates elders")  who worked directly with Joseph and Clara Pilates.
Ron started his career as a dancer and studied with Martha Graham, Allegra Kent and others in NYC.  Subsequently, he was also a Broadway stage, network television, cabaret and International Ice Capades choreographer.  Ron sustained a chronic knee injury which is how Ron he was referred to Joseph Pilates by a fellow dancer for exercise therapy.   He studied on and off with Joe and Clara over the course of 20 years and states that he owes much of his inspiration about movement to Clara who acted as a mentor for him throughout that time. Clara asked Ron to return to NYC to take over the studio after Joe passed away but Ron was unable to leave his own thriving choreography career.
Unfortunately Ron's alcoholism(which he spoke of freely) put an end to his Ice Capades career and made him realize that he needed to seek outside help and guidance to overcome this damaging addiction. He attended his first AA meeting in 1967 and never touched a drink again for the remainder of his life. Ron committed the rest of his life to staying sober as well as developing and sharing the work he learned from Joe and Clara.
Ron was schooled in the principles of Body Contrology (this is how Joe referred to his method of exercise) by Joseph and Clara Pilates in their New York City studio, on and off from 1948 until one year after Joe's death in 1967.  Ron's contribution was introducing the Pilates method to the west coast of the US, specifically in Hollywood, CA when he opened a studio in 1971. Ron's clientele included many high-profile names and celebrity clientele such as Nancy Reagan, Barbara Streisand, Ali McGraw, Sonny and Cher, and Candace Bergen. Ron brought Pilates mainstream when he was the first person to showcase Pilates on The Phil Donahue Show in 1977. Ron brought the Pilates method and name to a whole new part of the U.S. and subsequently allowed the work to thrive and grow with an entire new audience.
In addition to his Pilates career, Ron was a brilliant choreographer, working on Broadway shows, Vegas Acts and he became the first dance choreographer to be hired by the Ice Capades to update their national touring show.
Ron developed several of his own techniques which he based upon what he had learned from Joe and Clara, they are:the Fletcher Floorwork, Fletcher Towelwork, and Fletcher Barrework as well as a'percussive breathing' technique he utilized with not only his work but also the Pilates work..In Ron's book ' Every Body is Beautiful, he wrote that his intention was to move from the inside out.
Patricia Guyton is a Master Teacher, published author, featured speaker at medical conferences including the American Academy of Osteopathic Medicine annual convention, Pilates Method Alliance Alumni Board Member, former registered physical medicine assistant and CO United States Gymnastics Federation coach, video collaborator and distinguished teacher at Pilates Anytime, as well as a sought-after ambassador of purposeful Pilates instruction across the globe.
Pat is the owner of the Pilates Conservatory in Boulder, Colorado ("the fittest city" in USA) that educates students and Pilates teachers in the Ron Fletcher Work.   Pat started her career as a dancer and chanced upon Pilates over 30 years ago.  She understood Pilates movement instantly and very intuitively.  Subsequently, she studied with Ron Fletcher for over eleven years and worked with him as his assistant.  
Ron's connection with her and his heartfelt words to her, "we are both well-trained" has inspired her to always raise the bar of personal expectations ever since she met him in his workshop.  To Pat, Pilates is a delivery system for the body to teach healthy movements - all ranges of dimensional motion - from inside of body that extend outwards, living in the real world.  Pat continues to propagate Ron's techniques, infuse with her own unique way of teaching and engaging her students.  
PAT GUYTON'S WORKSHOPS AT APS
Spine Articulation: Head to Tail
"You are only as young as your spine is flexible."  Joe Pilates
For the spine to be flexible, strong, and adaptable in motion, each joint must be able to move in the range of motion that is appropriate for that segment and to coordinate with every other joint in the spine.  Articulation of the spine includes the sacrococcygeal joint. It also includes the connection of the cervical spine and the occiput.  Often these connections are not embodied in the movement. Pilates teachers can teach healthy articulation that includes these segments. This experience will create profound changes with simple anatomical based cues and motivation applied to Pilates exercises. The exercises selected can be taught in your studio for the beginning student, given for home exercise or to enable the skilled student go deeper into embodiment of the advanced exercises on mat and equipment.
Key Highlights of workshop
Learn the skeletal structure of the spine.

Learn how to mobilise and articulate each joint of the spine in sync with muscles.

Learn how correct articulations of the spine can help strengthen and increase flexibility of the spine to reduce spinal injuries.
3 march (sun)  1.30 pm - 4.00 pm
---
Spine Articulation: Head to Tail Power Workshop 3rd march
---
Ron Fletcher - The Innovator
This workshop will overview the lineage of Pilates first generation teacher Ron Fletcher. We will look at the special impact Ron had on the Pilates method as well as her philosophy of teaching dance, movement and Pilates. We will review Ron's fundamentals of movement on the Fletcher Floorwork, Fletcher Towelwork and Fletcher Barrework as well as Percussive Breathing.
Key Highlights of workshop
Understanding Ron's philosophy on teaching and approach

Understand Ron's movement fundamentals

Fundamentals of Ron's techniques  
1 march (fri)  10.30 am - 1.00pm
---
Ron Fletcher - The innovator Workshop 1st march
---
As a 30 year student and teacher of Pilates, Pat Guyton has expanded her practice to include the The Franklin Method. This short workshop demonstrates how Pilates and the Franklin Method work well together culminating in a Franklin inspired Pelvic Power Reformer class, exclusive to this workshop.
Key Highlights of workshop
A brief introduction to the the Franklin Method with an explanation as to why Pat feels it is a nice adjunct to Pilates work.

Learn about more about the structure of the pelvis and how a better understanding of this area can lead to the use of insightful images making your cueing and understanding of Pilates exercises more rich and varied.

Pat Guyton teaches a Franklin Method inspired Pelvic Power Reformer workout. This class is taught with the deliberate intention and application of the mental imagery you learned.
1 march (fri)  2.00 pm - 5.00pm
2 march (sat)  1.30 pm - 4.30 pm
---
Pelvic Power Workshop 1st & 2nd march
---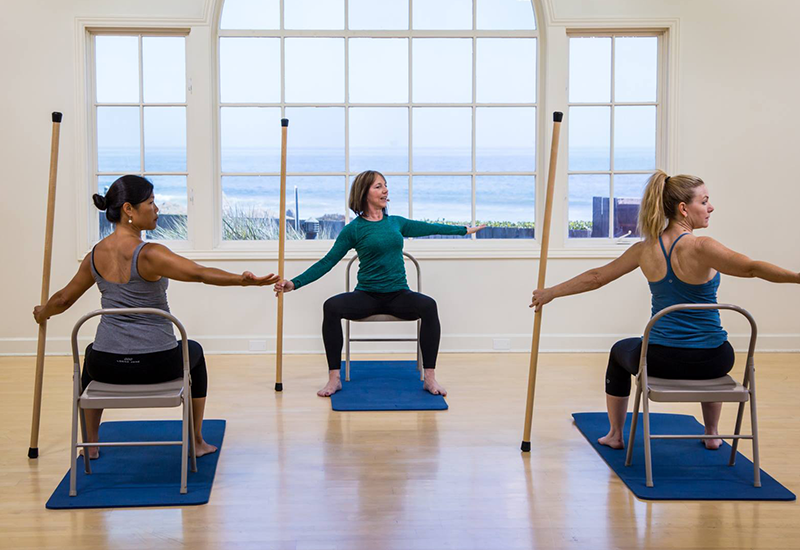 Create more awareness in your upper body in this shoulder tutorial with Pat Guyton. She teaches exercises that she learned from exercise physiologist, Dale Greenwald, which help to relieve neck tension as well as strengthen the back. By using the "rule of the bone," she shows how you can achieve proper form and function within our bodies. These exercises are great for everyone, especially those with issues like Thoracic Outlet Syndrome, Rotator Cuff issues, and more.
Key Highlights of workshop
Learn simple exercises to strength the shoulder girdle and teaching functional movement

Take away key strategies of understanding and teaching shoulder movement

Understand key shoulder/injuries issues and their effect on movement
2 march (sat)  9.00 am - 12.00 pm
3 march (sun)  9.00 am - 12.00 pm
---
Shoulder Girdle Workshop 2nd & 3rd march
---